Summary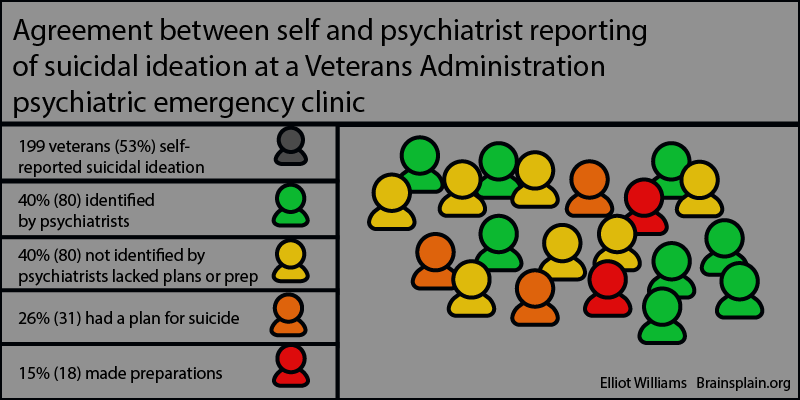 Summary
Let's say you were asked to review a coworker's performance who is not doing well. You must talk to them about how they are doing. Then you will fill out a written form which will not include your name. Most likely, you will be nicer and less critical when talking to them. On the form, you will probably point out many things they are doing wrong.
Sometimes, it is a lot easier to communicate about difficult things in writing than verbally. This study looked at how self-reports on paper of suicidal ideation differ from verbal reports to doctors.
Doctors must ask patients questions about suicidal thoughts and behaviors. This is called suicide risk assessment. Patients' answers help doctors make decisions. Sometimes, patients must go to the hospital. Other times, they need new medications. This process is best when the doctors use numbers and ask everybody the same questions.
Veterans are more likely to kill themselves than civilians. This study was done at a VA psychiatric urgent care clinic. 377 veterans participated in the study. They were asked many questions about their mental health and suicidal thoughts. Then, they talked to a psychiatrist.
They answered 4 questions about suicidal thoughts. They answered how often they had thoughts and how bad the thoughts were. They either wished to be dead, thought about taking their own life, planned how they would die, or prepared to kill themselves. The researchers scored the psychiatrists' notes. The researchers compared these scores.
Nine out of ten participants were male. Their average was 46. Most were white. A third were depressed. Half had PTSD. Half had alcohol problems. One in five said that they used drugs.
The self-reports were better than the psychiatrists' reports. They are a good starting point for talking to psychiatrists. About half of patients reported suicidal thoughts on their self-reports. This is much higher than the psychiatrists' reports. One in five patients had suicidal thoughts in the psychiatrists' reports. About half of the self-reports were different than the psychiatrists' notes. Nearly all the self-reports showed higher scores than the psychiatrists' notes.
Works Cited
McClure, Janet R., et al. "Agreement between self and psychiatrist reporting of suicidal ideation at a Veterans Administration psychiatric emergency clinic." Depression and anxiety (2018).